Campus Map
Nowrosjee Wadia College is a small township in itself. Consciously developed, the campus has retained and increased its green cover, rich in natural flora and fauna. The campus is located in heart of the city and very well connected to the other areas of the city. The peaceful atmosphere of the campus belies the full range of activities going on that complement academic life.
Spread out across an area of 17.6 acres, the college has 6 buildings:

Tata Assembly Hall
Science Building
Arts Building
Golden Jubilee Building
Post Graduate Building
Office Building
Main Library:
The College boasts of a well-equipped library with around 1,30,000 books on various curricular and co-curricular subjects. In addition, the College also subscribes to a large number of journals and magazines. The students take advantage of a large reading hall in the library. The library has a big reading hall for the students, apart from special cubicles for the teaching staff. A separate post graduate library with a reading hall of its own also exists in our college.
Year of Establishment: 1932
Total Number of Books: 1.3 lakh (approx)
Subject Areas: History, English, Literature, Physics, Chemistry, Zoology, Botany, Mathematics, Political Science, Marathi Literature, Geography, Philosophy, Psychology, Hindi Literature, Sanskrit Linguistics, French Literature, Library Science, Computer Science and Biotechnology.
The library uses Dewey Decimal Classification System (23rd ed. )
Seating Capacity: 300
Library Timings: 8.00 AM to 5.30 PM
Librarian: Dr. Farhat. I. Surve (Incharge)
The College also has a separate, well-equipped Post-Graduate library with a stock of about 3000 books. This library is housed in the Post-Graduate building of the college. The library also has a small reading hall for students and staff.
Total Number of Books: 3000
Subject Areas: Computer Science, Chemistry
All departments running postgraduate courses have separate departmental libraries. The heads of the departments look after the management of these libraries.
Special Facilities in Library
Following are special facilities
Braille Lab for visually impaired students
Library has more than 130000 books including text and reference books
Research repository / Library with computer and internet
More than 100 magazines / journals / reports / E-Journals for students
More than 20 Daily newspapers (Marathi,Hindi,English) for students
Library
Classrooms
The ideal classroom is a positive place where a student can come to work toward specific goals set before them in the class objectives. The teacher is to be positive, organized, outgoing, confident, and compassionate. The instructor often sets the tone for the entire classroom.
Nowrosjee Wadia college is providing spacious and well equipped classrooms for students with all modern learning aids.
Nowrosjee Wadia College is having following classroom facilities
48 Spacious and well- ventilated classrooms
All Class Rooms with Light and Fans and adequate furniture
Many classrooms are equipped with Projector and LCD screen.
Class Room Number Indicators
A well furnished Seminar Hall for Programmes / Guest Lectures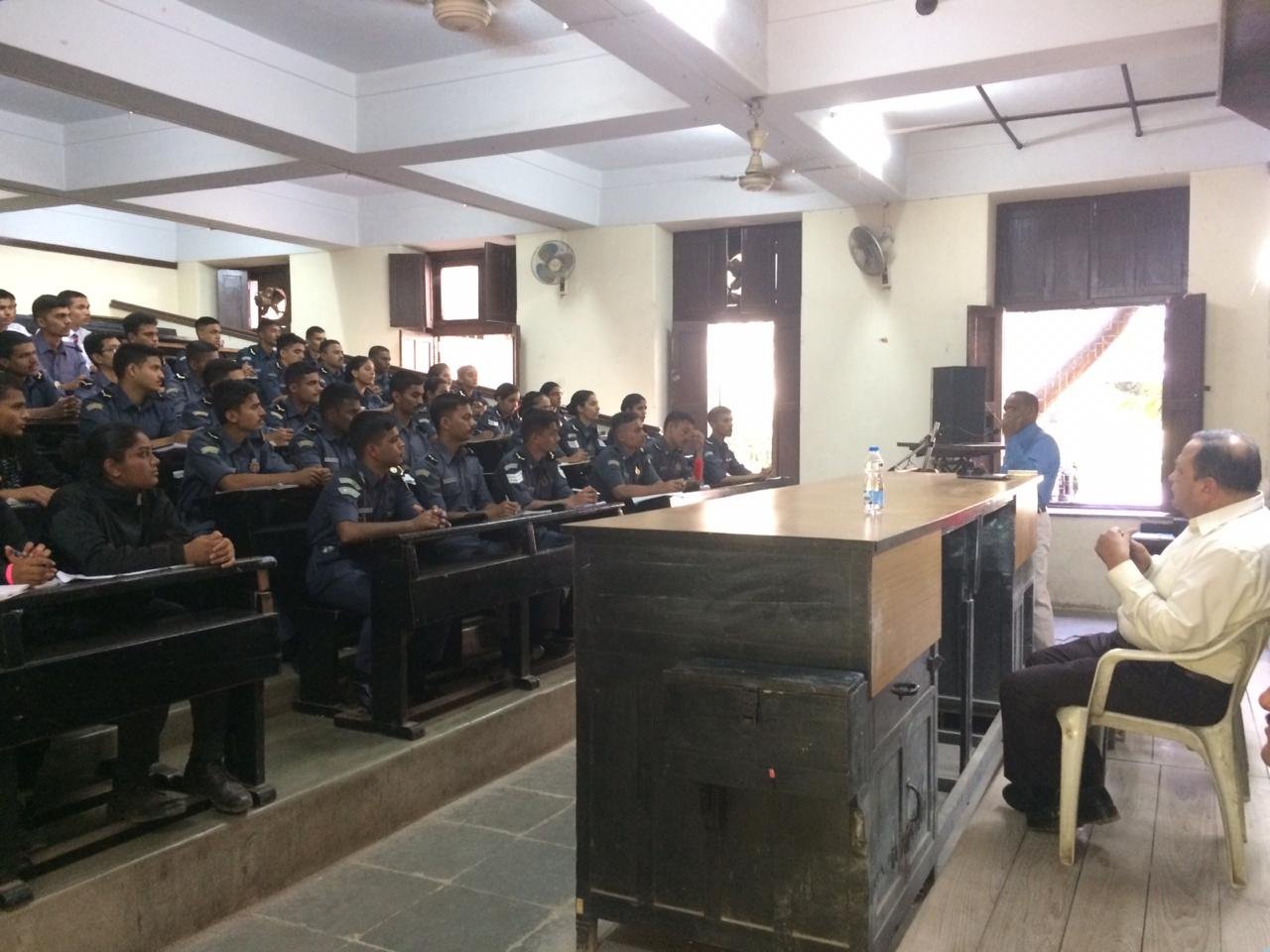 Laboratories
The departments have well-equipped laboratories for students to get hands-on practical knowledge to supplement their theoretical study. Apart from these laboratories, there are specialized research laboratories for faculty and researchers.
College laboratories and research labs
49 well equipped Laboratories
Computer Laboratory for the visually impaired
Well equipped research laboratories for Atmospheric Physics, electro Acoustics, Nuclear Physics, Organic Chemistry, Geology, Bio Technology, Nano Technology, Botany, Zoology etc.
Specialized equipment such as UV trans illuminator, Gel Electrophoresis unit, Scientific microwave, Digital balance, Colorimeter, Weighing balance, synthesis machine, gas sensor system, etc.
Tata Assembly Hall
When you enter the Nowrosjee Wadia campus, you will first notice the Tata Assembly Hall. The Tata assembly Hall is a magnanimous structure with a seating capacity of over 700 people. It is used by all institutions on the campus for social and cultural events, conferences, examinations and other events.
The Tata assembly Hall is a magnanimous structure, Located at entrance of Nowrosjee Wadia College campus. It is used by all institutions on the campus and having a seating capacity of over 700 people. It is used for following purposes
Formal assembly
Award ceremonies
Indoor competitions
Dramatic plays
Musical theatre productions
Concert performances
Seminar Hall
The Seminar Hall, located in the Post-graduate building is a modern, state of the art hall which is aesthetically designed and is used for addressing the students, for conducting guest lectures and workshops and organizing social and cultural events.
Hostel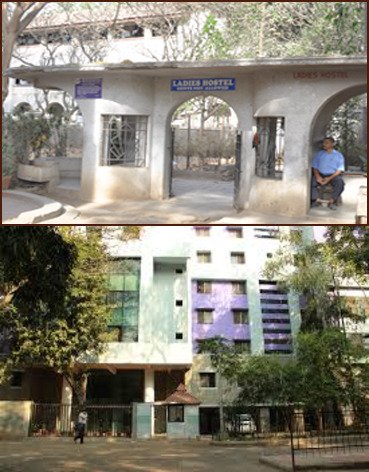 Gents' and Ladies' Hostel :
Modern Education Society, Pune has a Gents and a Ladies Hostel on the Wadia College Campus Pune. The Hostels are a common facility for students of all 5 Institutions on campus.
Ladies hostel (old building) :
Desiring and deserving students admitted in any of the colleges on the Pune Campus are provided with Hostel facility, especially students studying in a professional program in Undergraduate (UG) or Postgraduate (PG) . Identical facilities are provided to both Ladies and Gents Hostels.
Hostel capacity:
The Hostel building has ground plus seven floors. Ground floor is provided for parking facility to the staff and students on campus, a toilet for security and service staff, an electrical power room and a Security staff Cabin.
The rooms from the first to seventh floors are designed for accommodation, with attached toilet and bath.
The first floor has fourteen rooms of which one room is provided for the Warden/ assisting staff and one room is provided as a sick room while twelve rooms are for accommodation.
All floors from the second to the seventh floors are identical , with sixteen rooms for accommodation.
Two rooms are reserved on the second floor for guest accommodation.
Dormitory accommodation is provided in the facility building on separate floors for boys and girls.
The entire hostel premises, parking area and surroundings are under cctv surveillance.
Hostel capacity:
Sr. No.
Floor
Rooms
Capacity
Total
1
Ground
---
---
---
2
1st & 2nd
12 + 12
3 Seats each
72
3
3rd to 7th
16 * 5
3 Seats each
240
Total
312
4
Facility building Dorms
4 rooms
Six each
24
The Hostel capacity for each hostel is 312 students and 24 students in dorms i.e. a total of 336.
Mess Facility:
The hostels are provided with Mess facility. Boys and Girls will have separate Mess and dining area provided in the facility building. For safety and security, students are not permitted to prepare or cook food in any of the rooms. Students studying in a professional program who are busy in lectures and practicals, are provided with in-house mess services. Mess Service is provided to all students from Monday to Saturday and is inclusive of Breakfast, Lunch & Dinner.
Hostel rooms: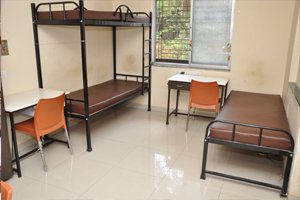 Facilities in each room:
Each room is provided with an attached toilet and bath.
The room is provided with a fan, two tube lights & a night footlight.
Each student has a study table, a chair, a wardrobe, and a socket point for charging mobile/ Laptop.
A bunk bed is provided with a mattress and a soft pillow.
Special features:
Hostel accommodation is mainly for UG and PG program students admitted from outside Pune for that academic year. M E Society and its staff always strive to provide better facilities and improve the standards thereof. The hostel is intended to be a second home for students.
Lift Facility :- Hostel building is provided with two lifts, one is used as a back-up. For safety and security of students, lift is provided with lift operator from 7am to 7 pm. Lift is with generator backup.
Surveillance :- All corridors and passages of the building are under surveillance of security camera.
Security :- Security personnel secure the building round the clock and monitor the camera system. Entry and exit to the hostel is closed from 10pm to 6 am.
Hot bath- water :- A common hot bath water facility is available in all seasons.
Medical facility :- Free O.P.D. facility is available. Qualified Gents and Ladies doctors attend O.P.D. three hours every day. Free medicines are given to all students and staff. If required, students are provided with paid IPD facility at nearby hospitals.
Sick Room :- Any student who is sick and has an infectious disease is shifted to sick room and accommodation is given to the attending parents on doctor's advice.
Guest Room:- If required and if available, a student's parents can get one day accommodation in guest room of hostel on paid basis.
Accommodation during Examination:- Students appearing for examination but not staying at hostel who require accommodation during examination may get accommodation, if available, for one or two days only on the days of their examination, on paid basis.
Canteen Facilities
The College Canteen is a large spacious area, with a view of greenery all around, and a variety of refreshments and meals available.
It tends to be the most popular place on campus, not only for refreshments but also for student bonding, discussions and even work on assignments and projects.
Nowrosjee Wadia college canteen is blessed with family atmosphere, with a variety of delicacies, touched by a home made flavour, cooked to perfection and served with a great courtesy.
Refreshments are available at the college canteen at affordable rates. Adequate seating facilities are provided to accommodate students and staff even during peak time.
College Canteen
The College Mess and Canteen facilities are for the students and the staff members of the five institutions in the Wadia College Campus.
The Mess and Canteen Hall is used only for the Breakfast Lunch and Dinner and at such timings as notified.
Outsiders are not permitted in the Mess and Canteen.
The Mess and the Canteen are mainly under the control of the Secretary of the Modern Education Society who enters into a contract with a party which in turn runs the mess and canteen. The difficulties and complaints if any should proceed through proper channel.
All Mess and Canteen matters are placed before the Mess and Canteen Committee.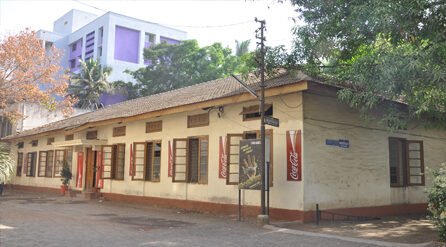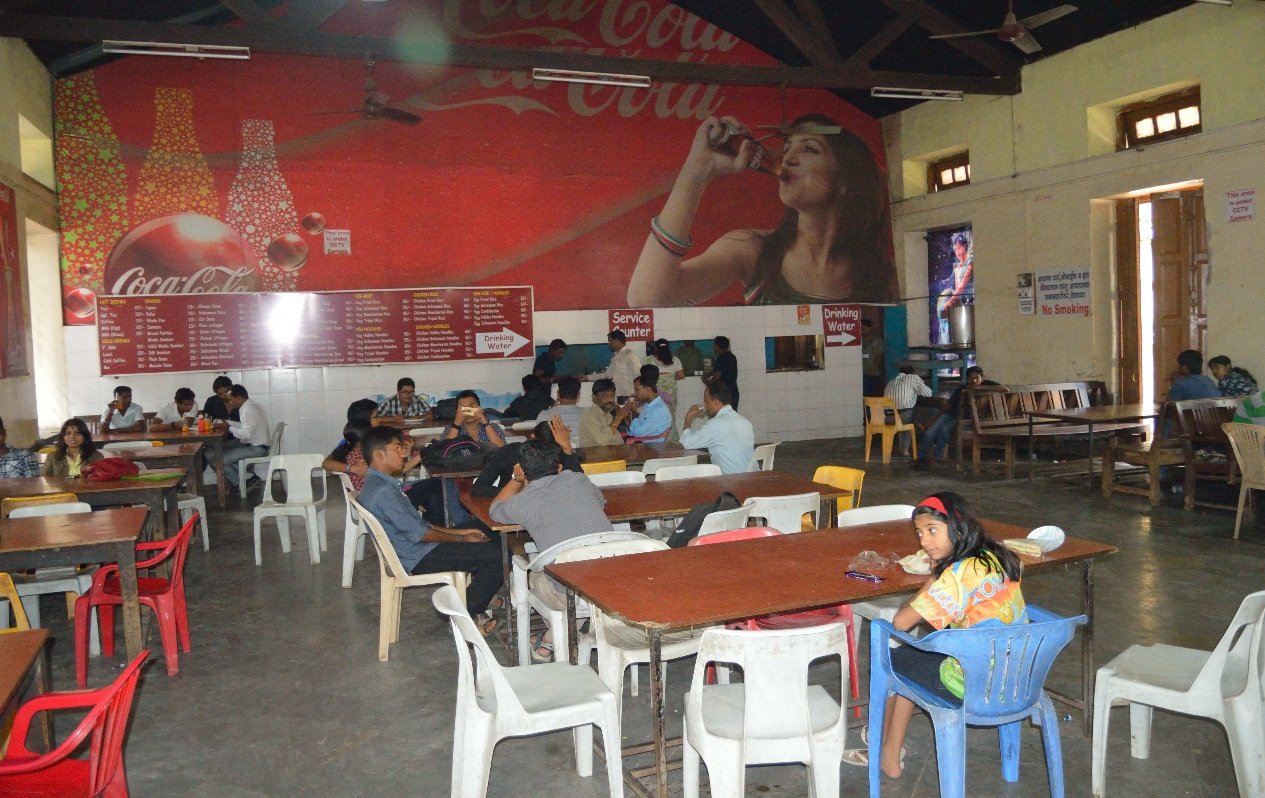 Other facilities for students
Online admission process for all classes
Guidance for filling various online forms
Online Fee Collections
Placement Cell
Hostel Facility(Boys and Girls)
Class Room Number Indicators
A well furnished Seminar Hall for Programmes / Guest Lectures
Cold Drinking Water
Well equipped Gymkhana for students
Ramp for differently abled (Handicapped) students
65 class notice boards
15 Blackboards for notices
separate washrooms for girls and boys students
Playground Measuring 4 acres
Two wheeler parking facility
Generator Backup for all Buildings
More than 30 Extracurricular Activities are conducted through students Associations
Guest Lectures /Workshop for specific subject/s
Separate Ladies common Room
Sanitary Napkin Vending Machine
Lift Facility in Office Building and PG Building
Internet Browsing Centre, Internet Access, Scanning and Printing Facility for Students in Library on request
College campus is under CCTV Surveillance
Well Equipped Research Centre
Academic & Personal Counselling Cell
Skill Development Programme