About the Department
Encouragement of Sports is one of the most important concerns of our modern society. The Sports facilities at the Nowrosjee Wadia College are most modern and well equipped. The Sports department provides Physical Education with a firm commitment to produce innovative sports leaders, managers and administrators who will be proactive in facing health and fitness challenges with a mix of modern and traditional methods and approaches.
The Institute goes beyond the prescribed curriculum to ensure all round development of the teacher trainees. Many value additions are provided to them like organizing Physical Fitness Test for Students and participating in various tournaments on college, zonal and university levels.
The department has well qualified, committed and competent teacher educators to shape the personalities of teacher trainees into successful professionals. Experts from various fields of physical education and visiting faculty are invited on a regular basis for enrichment lectures and intellectual guidance to the trainees."
Head of Department
Prof. Dr. V. V. Chabukswar
Incharge Principal
Head, Department of Sports and Physical education
Faculty Members
| Sr. No. | Name of Faculty | Qualification | |
| --- | --- | --- | --- |
| 1 | Mr. Ashok .R. Mundhe | M.A., M.P.Ed., SET | |
| 2 | Dr. Sachin .M. Kamble | M.A., M.P.Ed., NET., SET., Ph.D | |
| 3 | Mr. Ajit .A. Mundhe | M.A., M.P.Ed., SET | |
Non-Teaching Members
| Sr. No. | Name of Faculty | |
| --- | --- | --- |
| 1 | Mr. Arun .S. Deokar | |
| 2 | Mr. Ramdas .B. Deokar | |
Recently the college ground has been renovated with ultra-modern equipments. All kinds of facilities are provided to the students viz state of the art Gymnasium, well-equipped Grounds i.e. Cricket, Basketball, Handball, Hockey, Football, Kho-Kho, Kabaddi, Boxing Ring, Volley Ball, Net Ball, Ball Badminton, Tennis Court, Table Tennis, Athletics, Cricket Net Practice, Four Wickets, Jogging Track, Soft Ball etc.
Multipurpose Outdoor Game Facilities (Grounds) available :
Cricket Ground
Football Ground
Handball Ground
Volleyball Ground
Softball Ground
Athletics Field
Basketball Court
Kabbadi Ground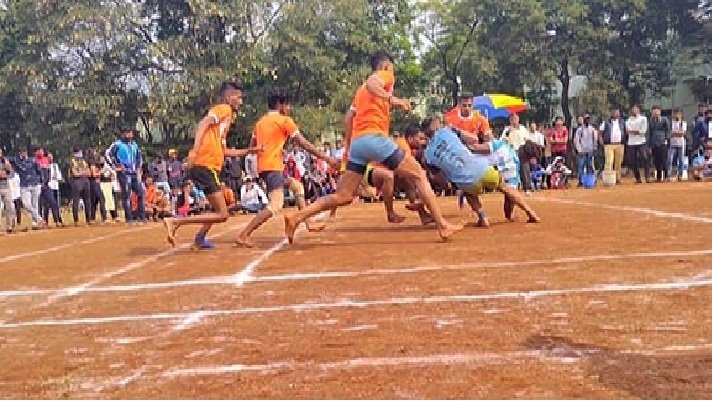 Kho-Kho Ground
Boxing Ring
Cricket Nets for practice
Indoor Games (Multipurpose Indoor Hall)
Judo
Yoga
Gymnasium
Badminton
Table Tennis Hall
Chess
Carrom
List of Intercollegiate competitions and Interzonal Competitions organized by college
The college organizes several Inter-collegiate and Inter-Zonal sports competitions annually. These include:
Intercollegiate Judo competition (Men & Women)
Intercollegiate Cricket competition (Men & Women)
Intercollegiate Cricket T20 competition (Men & Women)
Intercollegiate Hockey competition(Men & Women)
InterZonal Ball Badminton competition(Men & Women)
Our students not only participate in several collegiate, Inter-collegiate, Inter-Zonal, Inter-University, Inter-State and National Sports Competitions, but also win awards and bring laurels to the institution. They are indeed the pride of our campus.
List of students qualified different competitions
| Name of Student | Description |
| --- | --- |
| PRATISH MADHAVAN | MAHARASHTRA PREMIER LEAGUE |
| FARHAD HAZRAT JAAN | AFGANISTAN NATIONAL BOXING CHAMPIONSHIP |
| POOJA GUNBADE | ASIAN WRESTLING CHAMPIONSHIP |
| IRA JOSHI | ASIAN GOLF CHAMPIONSHIP |
| SEJAL KHEDEKAR | KHELO INDIA YOUTH GAMES |
| TRIGUNI BENDRE | KHELO INDIA YOUTH GAMES |
LIST OF NATIONAL PARTICIPANT PLAYERS
| NAME | GAME |
| --- | --- |
| KUNAL PATIL | BALL BADMINTON |
| SURAJ DHAWALE | BALL BADMINTON |
| SHAUNAK TRIPATHI | CRICKET |
| SHAUNAK TRIPATHI | CRICKET |
| AQUIB SHAIKH | CRICKET |
| PRIYANKA DESAI | CYCLING |
| YASHASHREE BOTRE | CYCLING |
| KUNAL GANDHI | FENCING |
| ESPICIOSA REBELLO | FOOT BALL |
| NAOMIC MASCARENHAS | FOOT BALL |
| VIVENDA D'COSTA | HOCKEY |
| NAMRATA GADE | POWER LIFTING |
| FARHAD HAZRAT JAAN | BOXING |
| MAYANK CHULET | CHESS |
ALL INDIA INTER UNIVERSITY PARTICIPANT PLAYERS
| Name | Game |
| --- | --- |
| YASHASHREE BOTRE | CYCLING |
| PREETI SHUKLA | CROSS COUNTRY |
| PREETI SHUKLA | ATHLETICS |
| ESPICIOSA REBELLO | FOOTBALL |
| IRRANGGAV HAILEUYIGE | FOOT BALL |
| SANJU MENON | HOCKEY |
| ARUN SINGH | HOCKEY |
| KUNAL GANDHI | FENCING |
| TRIGUNI BENDRE | FENCING |
| DEBANJANA RAJAK | TABLE TENNIS |
| MOHANISH AHIR | BODY BUILDING |
| DEEPENDRASING CHANDEL | BASKETBALL |
| VISHWESH SAYKAR | JUDO |
| VISHWESH SAYKAR | JUDO |
| Name | Award |
| --- | --- |
| MS. PRIYANKA DESAI | Awarded with SHIV CHATRAPATI AWARD |